JR is a French street artist who transforms his urban landscape with his enormous and complex black and white photographic works (reports the
Telegraph
).
His works usually centre on local and social issues wherever he chooses to work - from Rio to Jerusalem. For part of his 'Women Are Heroes' series, he covered rooftops in a Kenyan town with portraits of local women (
more here at the Observer blog
):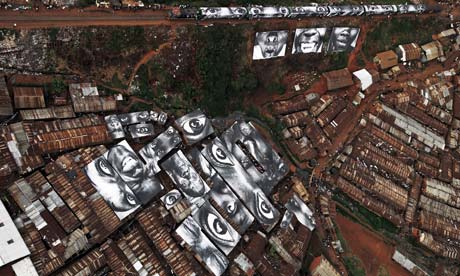 The secretive artist, 'JR' was recently stunned to be awarded the Ted Prize 2011.
More here
.
Here's the TED introduction video - the section on his work in the Middle East is really fascinating: